National Wine & Cheese Day
July 25 @ 3:30 pm

-

5:00 pm

Free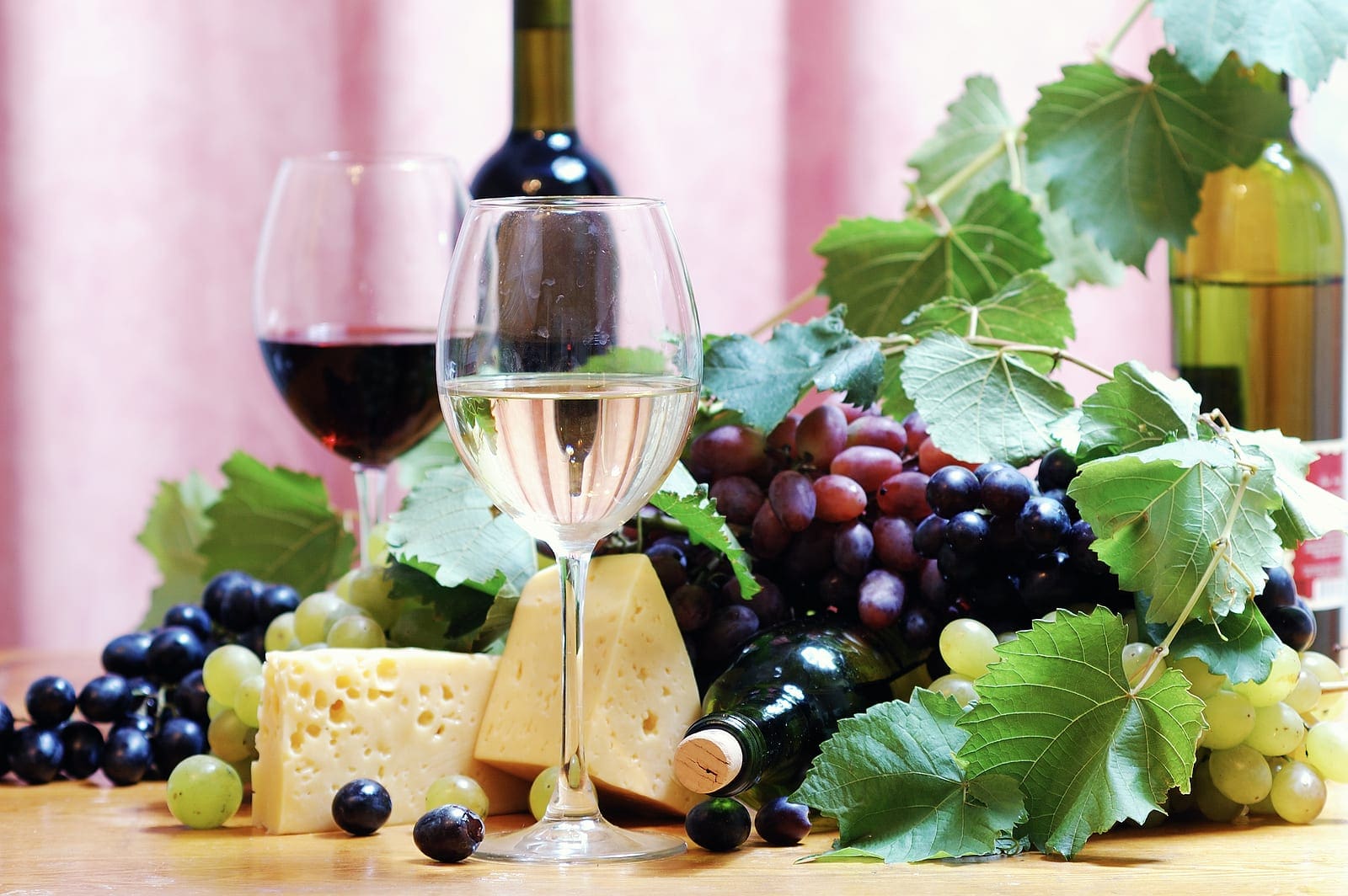 National Wine & Cheese Day      by Marty Cook
What better day to celebrate than a "Hallmark Holiday" on July 25th known as "National Wine & Cheese Day"? Wine and Cheese. Sort of goes together like Peanut Butter and Jelly. Like Eggs and Bacon. Like Potatoes and Gravy. Just a natural combination. And, Wine and Cheese as a pairing has chemistry in both a figurative and a literal sense. The fat in cheese works with tannin to smooth out the wine while the salt in cheese softens the acids in wine. Try it with us on Sunday, July 25th at 3:30 p.m. Eastern/New York time if you doubt this!
On "National Wine & Cheese Day", our resident wine educator and co-host Joe Via will step us through the machinations of selecting cheese pairings to compliment your favorite wines. In that sense, Joe has said that this program will be more about cheese than it will be about wine. So, to make it easier, we will pair our cheeses with wines of your choosing made from the seven Noble Grapes. What are the Noble Grapes? I am glad you asked!
The Noble Grapes are made from a short list of seven wine grapes that, as an aggregate, make the dominant proportion of fine wines around the world. This is partially as a result of these grapes being hardy enough to grow in most wine climates, not to mention that they also make some very fine wines. They are Chardonnay, Riesling, Sauvignon Blanc (all white), and Cabernet Sauvignon, Pinot Noir, Cabernet Franc, and Syrah (all red). We will let the choice of wine-growing region up to your discretion, as the focus here will be on the cheeses.
There are many types of cheeses, such as Fresh Cheeses, Soft-White Cheeses, Natural-Rind Cheeses, Washed-Rind Cheeses, Semi-Soft Cheeses, Hard Cheeses, Blue Cheeses, and Specialty Cheeses. It is impossible to delve deeply into the extensive world of cheeses. Our goal will be to provide an overview with the basic rules of thumb with which you can arm yourself when making informed cheese choices to go with the wines you are serving.
There is so much to explore and enjoy!  It's easy to be overwhelmed by the task; given seven Noble Grapes, so many cheeses, and so little time.   The resources pictured here can offer ideas.   We also recommend seeking suggestions from your favorite Wine Consultant.  For cheese – good advice is available for those in southcentral PA from experts found at Clyde Weaver's in the West Shore Farmers Market, any Wegman's Market cheese booth, the Di Bruno Bros. booth in the Camp Hill Giant supermarket, or Pugliese Brothers, Paxton Church Rd., Harrisburg.  And it can be simple too should you only have time to stop by a minimart Sunday afternoon – Philly Cream Cheese on a plain Triscuit can be quite nice with a good crisp white wine.  Therefore, no choice is wrong – be adventurous – we will learn together what we like AND what we love to pair!
And in case you're worried about buying too much cheese and those leftover corners and chunks – the best mac and cheese EVER has been made by throwing in ALL the cheeses left from a couple cheese boards into the mix.   An easy weeknight dinner and the next day's take-to-work lunch that will have your whole work team wondering what smells so good in the microwave.
So, grab several bottles of wine from among the seven Noble Grape varieties along with a random assortment of cheese types, invite a few friends along for the ride, and join us at the Zoom link below on Sunday, July 25th at 3:30 p.m. Eastern/New York time to discuss Wine and Cheese pairing with Joe Via on "National Wine & Cheese Day"!   
https://zoom.us/j/96998095519?pwd=T2dSQzlJZ2kyVmx5TVk3M0w3MEZtQT09
 Meeting ID: 969 9809 5519
Passcode: 236148
One tap mobile
+16465588656,,96998095519#,,,,*236148# US (New York)
+13017158592,,96998095519#,,,,*236148# US (Washington DC)
Dial by your location
+1 646 558 8656 US (New York)
+1 301 715 8592 US (Washington DC)
+1 312 626 6799 US (Chicago)
+1 669 900 9128 US (San Jose)
+1 253 215 8782 US (Tacoma)
+1 346 248 7799 US (Houston)
Meeting ID: 969 9809 5519
Passcode: 236148
Find your local number: https://zoom.us/u/aenylCKhK4
Related Events