Pennsylvania Wine Excellence Awards
Each January, the Pennsylvania Wine Society showcases the best Pennsylvania wines made from vinifera grapes and hybrids such as Chambourcin, Traminette, and Vidal. The wines are judged by the Board with the able assistance of Gary Pavlis, from Rutgers University, who is also a teacher of the wine judging certification course for the American Wine Society. The top-scoring wines are presented at the tasting, where we also give our annual award plaque to the winery that has made the top-scoring wine. The plaque is proudly displayed at the winery for the rest of the year.
Click here for PennLive's coverage of the 2019 PA WINE EXCELLENCE AWARDS
The event is open to the public and attracts numbers of people, so we always recommend that you register early for this exciting unveiling of the best of Pennsylvania.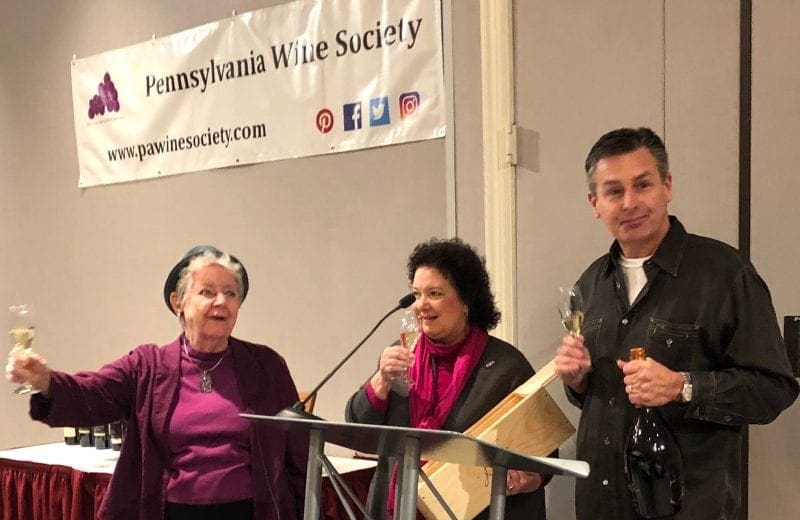 PWS Lifetime Achievement Award
Averill Shepps
The first Lifetime Achievement Award was presented in 2019 to Averill Shepps, Past President, Board Member and 30-year Patron Member of PWS. The award was presented on behalf of the Board by three Past Presidents, Frank Fritsch, Ritner Casey, and Lynne Beeson. Frank Fritsch speaking: Pennsylvania wine excellence started as an idea to honor Pennsylvania winemakers, and has become a world-class event honoring these winemakers for their excellent wines.
Much of the credit goes to Averill Shepps and countless loyal PWS members for this wonderful, annual award event.  And so it is a great day to recognize Averill for her devoted and tireless work for the Pennsylvania Wine Society and wine education in general. Her work over the last three decades at PWS is punctuated by holding the presidency more than any other person in the history of the Society. She has devoted countless hours to the Pennsylvania Wine Society. It has paid off! PWS has become a remarkable wine society in the United States.
Averill has personally and tirelessly worked on countless outstanding events, newsletters, media communications, and leadership and education initiatives. So, it is a great honor for the board of the Pennsylvania Wine Society to recognize Averill Shepps with the Lifetime Achievement Award for wine appreciation and wine education.
PWS thanks Averill Shepps for more than 30 years devotion to loving good wine and sharing the joy through her PWS leadership involvement. Congratulations Averill!

Spotlight on Kevin Ostrowski
by Marty Cook
The Pennsylvania Wine Society is honored to feature wine educator Kevin Ostrowski in this quarterly edition of "In The Winelight". Anyone who has enjoyed viewing one of the PWS Virtual Wine Tasting events on a Sunday afternoon via Zoom will no doubt recognize Kevin, who has delivered a number of quality presentations for our online audience.
Kevin is a modest but confident personality who currently enjoys retirement and "everything wine" with Cheryl, his high school sweetheart and wife of 46 years. Kevin and Cheryl make their home in Beaver County (PA), and Kevin summarizes their lifetime as "Too many stories over the years. Lots of adventures." Kevin and Cheryl raised two children and also have one grandchild.
Kevin's passion for wine was sparked by his introduction to German Kabinett Riesling wines in 2000. And, like many aspiring wine aficionados, Kevin began to research the vast world of wine as well as the craft of winemaking, an offshoot of his wine interests that Kevin pursues to this day. Kevin's first foray into winemaking was a Chardonnay. Visiting northeastern Ohio wineries in the Lake Erie AVA also served to amplify Kevin's winemaking and wine appreciation interests.
Kevin discovered the American Wine Society in 2010 while living in Atlanta, attended his first AWS conference in 2013, and now serves as the AWS Western Pennsylvania Regional Vice-President and Chapter Chair in Beaver County. Kevin's "rap sheet" of wine and wine judging certifications and training is vast and spans many organizations, including the AWS, the Society of Wine Educators, the Wine and Spirit Education Trust, the Wine Scholar Guild and others. Kevin has participated as a judge in a lengthy list of wine competitions and has also earned awards for his winemaking prowess from the AWS as well as WineMaker Magazine.
Kevin joined the Pennsylvania Wine Society after serving as a judge in the PA Wine Excellence Awards in 2017, an event in which he continues to participate. You will have an opportunity to meet Kevin in person when he serves as the Master of Ceremonies at the next PA Wine Excellence Awards in January 2022 which will follow this year's upcoming iteration of the PA Wine Excellence Awards competition in November.
Kevin and Cheryl found enjoyment during the pandemic by cooking foods from recipes of the world over. Now that countries may be opening up, Kevin and Cheryl are optimistically planning to resume travel adventures. Wine regions are high on their list, including riverboat cruises on French rivers. In the meantime, look for Kevin online during future Sunday afternoon episodes of the PWS Virtual Wine Tasting events!

by Robyn Meadows
If you have participated in the Pennsylvania Wine Society Sunday afternoon Virtual Wine Tastings in recent months, you are probably familiar with Joe Via.  Joe is the retired wine educator who, along with Pennsylvania Wine Society President Marty Cook, has taken us on virtual wine journeys from the west coast of the United States (Oregon Pinot Noir and West Coast Cabernet Sauvignon) to the Old World wines of France (Beaujolais Nouveau and Cabernet Sauvignon) and regions of Italy (Piemonte) and Spain (Rioja).  Joe has eagerly shared his vast wine knowledge with PWS members and friends through these virtual tastings.  Joe's presentations have been particularly adept at appealing to the broad range of wine expertise of those virtual tasting audiences.  His talks are accessible for novices and provide something for even the most experienced wine aficionado.
Joe came into his decades-long wine career with the Pennsylvania Liquor Control Board as somewhat of a fluke.  Having just finished his service in the U.S. Army in the communications field, Joe took a part-time seasonal job in one of the state's wine and spirits stores while he looked for a civilian communications position.  This part-time gig led to a passion for wine that resulted in his decision to make wine his career, one that has included almost every wine related job within the PLCB, from store clerk to wine buyer to statewide wine educator.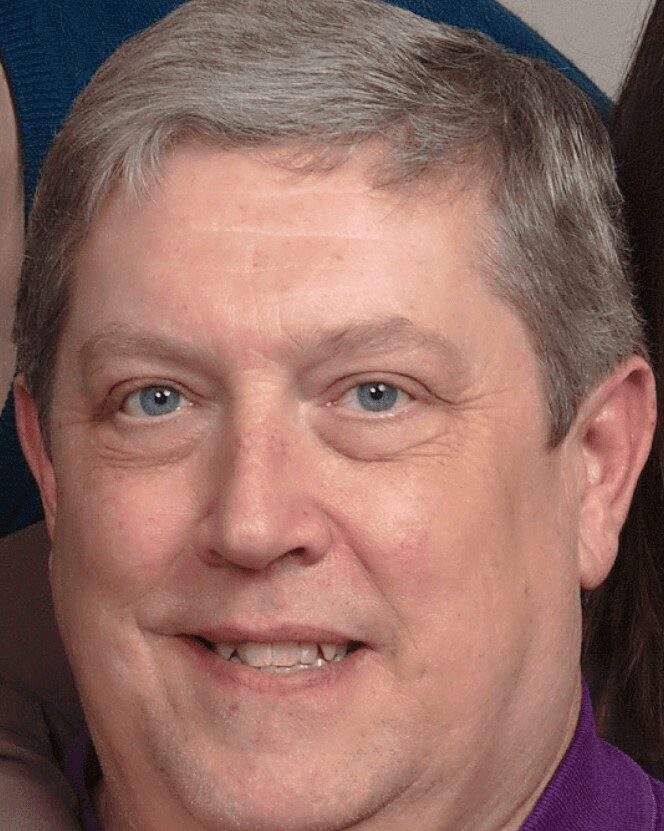 Joe had to take his first wine education course via correspondence long before the Internet and the growth of wine certification courses nationwide.  He followed up that course as one of the first PLCB employees to attend L'Ecole de Vin, a wine school in Philadelphia.  Joe ultimately became certified in French wines.  In his travels as a wine purchaser, Joe has visited almost every major wine region in the world, including Germany, Austria, Argentina, Chile, Australia, and New Zealand.  Surprisingly, one wine region Joe has never visited is France, a place that also appeals to another interest of Joe's: military history; so, a trip to France is definitely on his retirement bucket list!
When asked for one piece of advice he would give to someone who wants to learn more about wine, Joe said "Don't be intimidated by wine."  It is a beverage you should enjoy drinking.  Be open to trying new wines; you can learn as much from wines that do not suit your tastes as you can from the wines you love.  Explore different wines and you will learn to find the wines you like.
In these times when we cannot travel, and thanks to volunteers such as Joe Via, wines and the Pennsylvania Wine Society  Virtual Wine Tastings bring a little bit of the outside world to us.
Previous Pennsylvania Wine Excellence Awards       
2011 PA WINE EXCELLENCE  X WINNER
John Landis, Winemaker
2010 Chambourcin Estate Lehigh Valley
2009 PA Wine Excellence  VIII Winner
Eric Miller, Winemaker
2007 Chambourcin Miller Estate Vineyard
2007 PA Wine Excellence  VI Winner
Joanne Levengood, Winemaker
2005 Cabernet Franc
2002 PA Wine Excellence  I
No award given
Sorry, we couldn't find any posts. Please try a different search.